History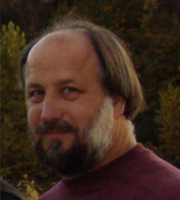 Carefree Landscape started out of the back of a station wagon in July of 1980 when a company that I was working for went out of business and some of their landscape customers requested that I and my crew continued to serve them.Through the 1980s we struggled and survived, mostly doing residential landscape maintenance with some light commercial maintenance. In the late 1980s I took on landscape maintenance at a large shopping center and through the 1990s I did strictly commercial maintenance contracts.
In 1990, the head groundskeeper at an amusement park encouraged me to start a greenhouse. This is how I started as a plant grower. I continued the greenhouse operation using colorful, hardy annuals for the landscape operation. As a side hobby to this I started Shangri-La Research to experiment with a solar thermal greenhouse and numerous other sustainable technologies. These ideas have helped my landscape business maintain an edge.
In 1996 I was invited to install the landscape at two of the restaurants in a corporation that I was then working for.
Since then I have downsized to a one or two man operation. Over the last decade, I have bought a Bobcat skid steer loader with a unique feller buncher tree shear to do light wood lot clearing and grading and I did final grading and topsoil work with a construction company.

Current
Lately I have been doing more residential landscape renovation jobs around the local area.
In August 2011, I moved the business to a larger 5 acre location on the east side of Fairborn. Here I intend to rebuild the greenhouse and start a landscape nursery.